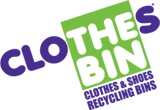 Clothes Bin
Franchise Fee: $49,500
Royalty: $6/Bin/Week
Total Investment: $134,270 - $188,295
Can Be Home Based: Yes
Founded: 1986
Franchised: 2016
VetFran Member: Yes
Open 24 hours a day. Bins act like cash machines by making money while you sleep.
Help others do their part for the environment. Your Clothes BinŽ franchise will play an important part in keeping clothes and textiles out of your local landfills.
No sales experience needed. The BinŽ does all of the selling by compelling your customers to fill the bins. Simply place each bin in a convenient location and your customers will do the rest.
Consistent sales. Our Clothes BinŽ Corporate Buy Back Program provides an option for the Company to purchase your collected clothes, shoes and textiles at wholesale prices.