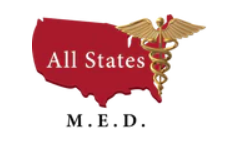 All States M.E.D.
Franchise Fee: $100,000
Royalty: 8-6%
Total Investment: $100,000 - $255,500
Can Be Home Based: No
Founded: 2015
Franchised: 2023
VetFran Member: No
All States M.E.D. has a proven business model and has reached one of the highest level of achievements, being nominated INC 5000 as one of the fastest growing private companies in The United States. In 2021 All States M.E.D. was nominated the 616th Fastest growing and in 2022 the 631st fastest growing private company in ALL INDUSTRIES! Did you know that the global medical device market is projected to grow to $799 Billion by 2030?