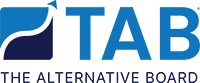 The Alternative Board
Franchise Fee: $44,000
Royalty: 20% gross annual revenue
Total Investment: $55,875 - $96,650
Can Be Home Based: Yes
Founded: 1990
Franchised: 1996
VetFran Member: Yes
Helping nearly 30,0000 businesses grow, The Alternative Board® (TAB) has a proven track record for revolutionizing both the business coaching and advisory board landscapes. In addition to its core business coaching and peer advisory services, TAB offers multiple revenue streams including StratPro® strategic business leadership planning, and other significant revenue potential, such as consulting, that is free of royalties. With low cost of entry, minimal operating investment, exclusive territory, comprehensive training, and ongoing support, TAB Franchisees join a dynamic community of business leaders who are passionate about helping others achieve their goals.
Our ideal candidates are:
Transitioning executives
Business owners
Business consultants and coaches with several years of experience
With a minimum net worth of $300K
TAB's franchise program is designed to help franchisees succeed with unmatched tools, training, marketing, mentorship, and support needed to build a thriving business.