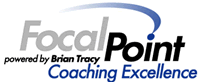 FocalPoint Business Coaching
Franchise Fee: $45,000
Royalty: Scales the 1st year - $1,950 per month
Total Investment: $71,600 - $80,000
Can Be Home Based: Yes
Founded: 2004
Franchised: 2006
VetFran Member: No
FocalPoint Business Coaching was founded with the vision to create the world's premier business development organization. Using proven strategies for business success, FocalPoint programs are designed for executives, managers, entrepreneurs, business owners and individuals with the passion and vision to improve their effectiveness in their business life.

Our global network of professional Business Coaches are dedicated to teaching, developing and motivating today's premier business and community leaders in reaching greater success through the FocalPoint development program. Our Coaches have been using and testing the FocalPoint methodologies for 11 years in the United States, and Internationally.

FocalPoint has assembled a team of experienced business leaders who are certified professional coaches under Brian Tracy International standards to meet the market's need for quick and responsive business development. Using our proven programs and strategies, FocalPoint Coaches guide their clients step-by-step through the Brian Tracy FocalPoint program providing feedback and guidance in a tailored program relating to company objectives, professional development and personal aspirations.