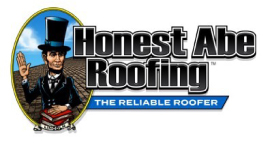 Honest Abe Roofing Franchise, Inc.
Franchise Fee: $35,000
Royalty: 5%
Total Investment: $150,000 - $468,341
Can Be Home Based: No
Founded: 2007
Franchised: 2017
VetFran Member: Yes
Our corporate philosophy was inspired by Abraham Lincoln and his enduring commitment to hard work, a job well done and his never wavering dedication to excellence. ​ Honest Abe Roofing was founded over a decade ago with the goal to create a marketing and sales-based business model and to improve upon how roofing and other home improvement products and services were promoted and provided in a highly-fragmented marketplace. It's with this same philosophy that the Honest Abe Roofing franchise program was created. We provide smart, sales-oriented entrepreneurs with flexible business ownership opportunities, a streamlined start-up procedure and efficient processes for everything from lead creation to project completion.