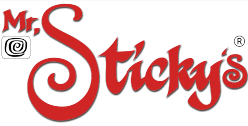 Mr. Sticky's Franchise Group, LLC.
Franchise Fee: $27,000
Royalty: 6%
Total Investment: $103,000 - $187,000
Can Be Home Based: No
Founded: 2001
Franchised: 2019
VetFran Member: No
Mr. Sticky's has been providing addictive sticky buns, cinnamon rolls and other tasty sweets to Pennsylvania for over a decade. In addition to our restaurant in Williamsport, PA, and our bakery in Lancaster, PA, we offer mobile bakeries/ concession trailers for events of all types – fundraisers, fairs and more. We also ship our addictive walnut and regular sticky buns, via FedEx, for any occasion. Consider a Mr. Sticky's for your neighborhood, town, or borough. Our Lancaster operation has been getting a lot of notoriety from TripAdvisor, notably, being in the top 5 position of their list of 495 restaurants in Lancaster County. That kind of endorsement can easily translate over to other locations as well, such as a location that you may be thinking to start operations.