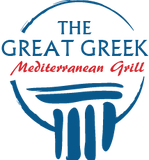 The Great Greek Mediterranean Grill
Franchise Fee: $39,500
Royalty: 6%
Total Investment: $400,000 - $600,000
Can Be Home Based: No
Founded: 2012
Franchised: 2018
VetFran Member: Yes
Delicious Mediterranean food is our business. A restaurant franchise is only as good as its food. Our brand has grown because we work together to maintain the quality of our offerings.
All of our food is original and authentic to our generational Greek recipes.
All dressings, dips, and desserts are made from scratch.
Everything is cooked to order, never reheated or kept under a lamp.
As third generation restaurateurs with over 30 years in the hospitality industry, the business of delicious food is in our blood; itís what we know, what we do, what we love! Our desire is to make each meal at The Great Greek a memorable one. The Great Greek takes pride in procuring the freshest ingredients and preparing them daily for you. Our recipes go back for generations, and we promise to serve you that consistent meal each time. We consider our staff as our children helping at those memorable Sunday dinners; they are family.